About Juan Sazo, LCSW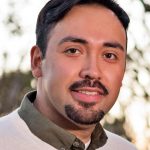 281-594-7138
Sazocounseling@gmail.com
Juan P. Sazo is a bilingual licensed clinical social worker who has experience working with children, adolescents, and families in faith-based, school-based, and community-based environments. He has extensive knowledge regarding school issues, developmental concerns, life adjustments, grief and loss, immigration issues, trauma and is trained in EMDR. Juan earned his Master's Degree in Social Work from the University of Houston-Graduate College of Social Work. He is a licensed clinician, recognized as a Licensed Clinical Social Worker.
Juan has experience working as a trauma and grief therapist providing evidence-based, individual and group therapy to children and adolescents who are feeling some sort of distress or impairment in their lives due to traumatic experience(s) and/or are grieving the death of a loved one(s).
Before his current position, he worked as a school social worker for 6 years, servicing a middle and high school students. Juan facilitated individual and student groups regarding different topics such as self-harm, relational aggression, anger management, improving self-esteem, student retention, executive functioning skills, and coping skills.
Above all, Juan takes pride in ensuring that in all his different roles, he serves his clients, and supporting families, through a culturally aware lens.
He wholeheartedly believes in the power of working with his clients to provide the most culturally sensitive and professional therapeutic support.
For self-care, Juan loves spending time with his family, cooking, running, playing and watching sports, and is involved in different volunteering roles in the community.
Juan's Statement
Are you looking for relief from anxiety, depression, past traumatic experiences or adjusting to life's difficulties for yourself or a loved one? Do you feel that these challenges are holding you back from becoming the best person you hope to be? Envision what it would feel like to find that peace of mind that you're seeking? To live your best life in the different roles you lead? To replace anxiety with calmness, replace feelings of hopelessness with feelings of joy.
If this is something you're seeking, I hope to utilize my experience and client-centered approach to provide evidence-based, individualized treatment methods to reach your goals. We will work hand-in-hand to harness your best self and overcome the challenges that are most distressing.
In order to accommodate my clients, I provide evening appointments to fit busy work or school schedules and I speak Spanish. Reach out and let's see if I can support you or your loved one to find that peace and joy you deserve.